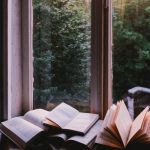 Today's guest post is by Dan Rice.
When I started writing, I dreamed of creating an epic fantasy series. Hence, I set the goal to bang out a series one book after another. This posed a couple of problems.
First off, my writing was horrible, not marketable at all. My early efforts were so bad, I ultimately decided my only choice was to start over anew.
As I became more knowledgeable of the writerly world, I learned that it's often best to market a book that works both as a stand-alone and the first in a series. I decided that was the way to go because it's hard to gain traction while querying without saying you'll love this book that's the first in a fifteen-book epic fantasy series.
So that's what I set out to do: write a book that could kick off a series and be a stand-alone. It took a long time, but eventually I produced a marketable manuscript and found a publisher. Dragons Walk Among Us kicks off The Allison Lee Chronicles, a four-book series. I'm editing the third book and have the initial outline of the fourth and final novel. Continue Reading…