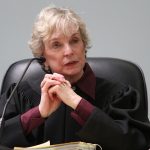 Today's post is part of a series on professionals sharing tips and expertise in order to help novelists convey accuracy in their fiction. If you are writing any scenes that include doctors, lawyers (posts here and here), investigators, or law enforcement officials, be sure to study these posts (and print them out for reference).
The following guest post is from Judge S. V. Brown, a former attorney who has been on the bench in California for three years:
If you are writing legal fiction, chances are you will have a scene in a courtroom. If you choose to include such a scene, don't forget that the judge does not have to be a boring fringe character who issues rulings without emotion.
A courtroom is an emotionally charged environment, and judges are not immune to it. Give your judge depth and character and think about how your judge would respond in the scenarios you create. I have been a superior court judge a little over three years, and here are a few insights I can share about sitting on the bench.
Judges Are Not Know-It-Alls
When you see a judge, it's easy to think, "This is the person with all the answers." While judges have special training and access to resources, there is no special endowment of wisdom you get when you put on that robe.  Continue Reading…