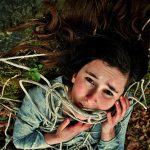 In the last two posts, we've looked at the challenge of evoking emotions in our readers. You've learned that just telling how a character feels does little to nothing to evoke emotional response in your reader.
The primary purpose of fiction is to elicit an emotional response. Think about it. Readers of fiction aren't reading to acquire facts, such as they might do when studying a nonfiction book. They read to be entertained, affected. They read to be tense, laugh, worry, get excited. In other words, they read to feel something.
And your job as a fiction writer is to masterfully write in a way that will evoke a specific emotional response in your reader. You may not be able to name exactly what those emotions are, but you should know what those emotions feel like when you experience them.
We looked at how thoughts lead to emotions, and that getting into your character's head and showing her thoughts in a masterful way is the ticket for eliciting that emotion in your reader.
Emotions are wide and varied. Subtle and strong. You might want to evoke just a tiny bit of sympathy or a huge heart of compassion in your reader. You might want your reader to end a scene feeling a tiny bit annoyed with a character. Or feeling outraged.
You are the magician and the manipulator of emotion. So it behooves you to study hard. Examine passages in novels that move you. Then figure out what the author wrote that had that impact on you. Continue Reading…