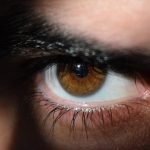 Today's guest post is by Steven-John Tait.
If you've ever struggled to get under the skin of your protagonist, don't lose hope. This post tells how mine went from a protagonist I couldn't relate to to someone so real to me that I felt guilty about finishing the novel and therefore his existence.
Here's my experience from initial inspiration to the creative processes I used, and my eventual breakthrough and tips you can apply to your own work.
On vacation in a town in North Brazil, I was drinking a beer at one of many beachside bars, when I noticed a haggard man walking between the tables and chairs trying to catch anyone's eye. It was obvious he was looking for someone to take advantage of. Nobody returned his gaze except me.
He sat down across from me and asked the waiter for a beer and a cachaça. The waiter looked to me for approval because we both knew that I'd be the one paying. I couldn't understand much of what my guest said because my Portuguese hardly gets me from A to B, but he interested me, as did the faded tattoos over his arms and the white lines he'd drawn on himself using acid from cashew nut shells. Continue Reading…