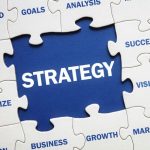 In continuation from last week's post reviewing the key points of strategic planning, we're going to look at how to formulate a simple, approachable strategy to help you reach those writing goals and big dreams you have for your career.
We took a look at what a writing vision considers: what you want to be, what you want to have, and what you want to do. If you haven't laid down that vision, come up with sample statements similar to the ones in that post.
Now that you have listed all those things you hope to achieve by the end of 2019, you'll want to come up with a clear game plan so you can reach those goals. Set up benchmarks for the various steps you need to take to get to the finish line. Once you figure out the steps, you can then decide how long it will take you to complete each step.
One great way to figure this all out is to brainstorm all your ideas. I have numerous posts on ways writers can brainstorm using mind maps, so consider using it for strategic planning as well!
Get out that big piece of tag board and your markers and start listing all the dreams and goals you have. You can then draw lines (as discussed in the previous posts) to the milestones you need to reach to get to each goal. And with each milestone, you can connect all the little tasks you have to accomplish to make that milestone. Continue Reading…