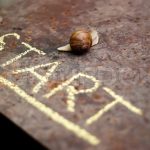 Today's guest post is by Tara East.
Our lives are busy and they're just getting busier. We're desperate for tips about time management, scheduling, prioritization, and optimization. We want life hacks and shortcuts. Technology has eliminated some of the tedious domestic tasks that consumed our time and zapped our energy, yet we're still complaining about being time poor and exhausted.
These days, we expect more from life and ourselves, but creatives can find this approach rather distressing.
A schedule is a great way to see the week ahead at a glance. And time blocking can help you set realistic goals and expectations, especially once you start allotting time to the things that matter: writing, work/study, exercise, and leisure.
But time management, tight scheduling, deadlines, and optimization tactics can quickly become problematic, because—let's face it—there is nothing efficient about creating art.
While maintaining a weekly schedule may better your chances of completing big goals and reaching deadlines, it is also important that you hold these guidelines lightly. Continue Reading…