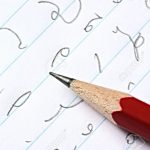 Today's guest post is by Tawnya Showalter.
If you're a journalist, you may already be acquainted with shorthand. It's a high-speed method of recording interviews or taking notes, using a simpler set of characters in place of the alphabet.
But shorthand isn't just for journalists and college students anymore—it's for authors too.
Writing your first draft—or sketching out a scene—in shorthand can significantly impact the structure of your novel. It helps shore up common pitfalls associated with first drafts, making your editing process a breeze.
Balderdash. Utter nonsense, you say. How can writing quicker really make such a difference? Continue Reading…