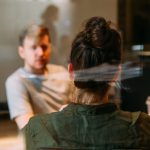 This is such an important aspect to writing dialogue, I want to share this post with you that I wrote many years ago. Too many writers fail to show what their characters are doing while conversing, and coming up with a great THAD is the key to success!
Back when I wrote the book (with four other authors) 5 Editors Tackle the 12 Fatal Flaws of Fiction Writing, I spent a month going over one of the fatal flaws in fiction writing: Flawed Dialogue Construction. I touched on the subject of "talking heads," which is a problem in a lot of manuscripts. What this means is scenes with dialogue are not well grounded in setting and do not show clearly the actions the characters are engaged in while talking.
But even if writers drop in some lines here and there to show where their characters are when engaged in conversation and some body language or background activity, often these characters are still basically "talking heads."
A lot of writers fail to take the time to bring a richer environment to the scene because they are so focused on writing the dialogue and making sure the information being revealed is done well. But so much more is needed to make a heavy-dialogue scene effective.
 Writers might get their dialogue mechanics down pat, appropriately using speech and narrative tags effectively, and avoiding that "on the nose" dialogue that just doesn't come across as believable. But all the great dialogue in the world will still be problematic if it's floating in space, coming out of talking heads that don't seem to have bodies attached to them. Continue Reading…