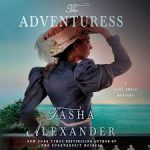 Today, for our first-page analysis, we're going to look at The Adventuress by Tasha Alexander. This novel is the tenth installment in a historical mystery series. Reminiscent of Raybourn's Lady Julia series, Alexander's series introduces a widowed, precocious Victorian lady-sleuth who finds love and romance and displays her sharp sleuthing skills with each novel.
Emily and husband, Colin, have come to the French Riviera for what should be a joyous occasion—the engagement party of her lifelong friend Jeremy, Duke of Bainbridge, and Amity Wells, an American heiress. But the merrymaking is cut short with the shocking death of one of the party in an apparent suicide. Not convinced by the coroner's verdict, Emily must employ all of her investigative skills to discover the truth and avert another tragedy.
Opening Pages of Series
While it can be presumed that most readers of a series have read some or all of the previous novels and know the characters, writers should keep in mind that some readers won't have. Which means those opening pages should be easy for anyone to understand and follow (I'll soon be doing some posts on writing a series and what's important to know).
On occasion, I've started to read a novel that was part of a series (not the first book) and found it too hard to make sense of. Frustrated, and unwilling to put out the effort to stick with the story (in hopes everything would soon be made clear) or go find the first book and read that before resuming, I give up. Continue Reading…