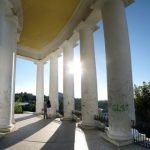 Since we've been exploring masterful writing over these last few months (and will continue to do so), I want to bring you back to the basics of novel structure. Why? Because all the masterful writing in the world won't go very far if you don't nail structure.
As you probably know (if you've been following my blog awhile), I write a lot about structure. And that's because it's crucial if you want to write a solid story. It's as simple as that.
Every writing coach with a lick of sense is going to tell you essentially the same things I do. Maybe they use different terminology or describe concept or premise differently. Those are moot points.
What matters is that you understand how important structure is. And where to start.
That's why I like using the building construction metaphor. You have to have a sturdy foundation for your building that meets established and proven building codes. A novel works on the same principles. Continue Reading…