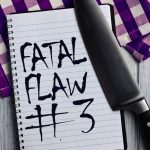 This month we've been tackling Fatal Flaw #3: Weak Construction. Our editors have so far shown many ways our writing can come across as weak, including the use of boring, flat, or vague words and descriptions. Weak sentence structure plagues many manuscripts, but knowing how to spot these flaws, and how to correct them, is not all that hard. Today, editor Christy Distler dives deeper into the topic by examining what constitutes weak construction in dialog.
We've been talking about weak writing with the Wednesday posts this month, and today we're going to look at dialog. Strong dialog is crucial. In fact, according to a literary agent I met at a writers' conference this last summer, it's one of the first things an agent evaluates when reading a manuscript.
Why? Because dialog gives a quick yet solid indication of a writer's abilities. It conveys how much a writer has studied the craft and how well he or she understands the mechanics of speech.
Strong dialog keeps a story interesting by revealing characters' traits, advancing the plot, and breaking up narrative with action that clearly describes what's happening. Conversely, weak dialog results in shallow characters with no individuality, a dragging plot, and an ambiguous, unsatisfying story. Even the best plot lines won't hold a reader's interest if the writer lacks the ability to create good dialog. Continue Reading…