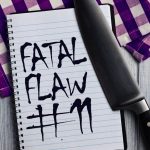 This week editor Robin Patchen wraps up our look at Fatal Flaw #11 – Pesky Adverbs and Weasel Words. If you've missed the other posts, start with this one here.
It's been said (by someone) that 93% of communication is nonverbal, and of that, 55% is pure body language, including facial expressions, hand gestures, and postures.
For instance, take the word sure. If it's delivered with a big smile, it means something very different than when it's delivered with a glare. One is agreement, the other sarcasm or distrust.
We authors know this—we're students of human interaction, after all. So it makes sense that we so often include facial expressions and body language in our stories.
But these nonverbal descriptions can quickly become weasel words and bulky phrases, shoved into our paragraphs to convey quickly—and perhaps lazily—our characters' feelings and reactions. Continue Reading…