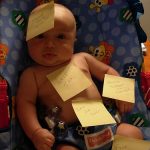 Today's guest post is by author Michelle Weidenbenner:
If you're like many parents who are also writers you find it difficult to find the time to write.
Here are a few scenarios you might have found:
You lay the baby down for a nap and can't wait to sit at your computer because you finally have a moment to yourself, a moment to write. The house is quiet, your computer is fired up, but all you can do is stare at the blank page. What do you write? Where do you start?
Or . . . Continue Reading…