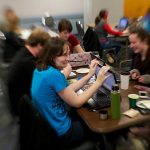 Today's post is by H. E. James:
Na-No-What-Mo?
For the last seven years, from this month through November, I've been asked that question by friends and family not in the know. I then go on to explain the pleasure and the pain that is National Novel Writing Month.
National Novel Writing Month is a nonprofit established in 1999 to foster creativity and writing in both adults and youth. NaNoWriMo has been so successful that it has generated more than 250 traditionally published novels, including Sara Gruen's Water for Elephants.
I haven't been so lucky, but that hasn't stopped me from trying, even while pursuing my MBA. I have signed up for NaNoWriMo for seven years running and have "won" it once—my very first year.
To "win" NaNoWriMo, you must complete 50,000 words within the thirty days of November. Of course, because it is an online activity, we are all on the honor system, but participants are encouraged to only brainstorm, outline, or create notes for their novels before midnight on Halloween. Then, the writing can begin. Continue Reading…