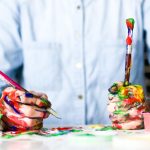 Today's guest post is by Jacqui Murray.
When people hear the word "writing", most think typing, maybe aching hands, but that's the process. Not the product. In writing classes and seminars, experts told you to "write narratives using effective technique, pithy details, and well-structured event sequences." Nowhere did they specify the tool to be used. Traditionally, writers accomplished these worthy goals with words, paragraphs, pages, and chapters.
But why?
Consider this scenario: You are required to draw a picture that describes the horrors of war, but you're a lousy artist. The best you can do is stick figures and red flames. Or you feel a story nibbling at your brain, but your special needs prevent you from typing. You give up, decide you can't write.
If you found a kernel of truth in this, take one of the free online quizzes that determine your best communication style. You might try the North Carolina State University's Learning Style Quiz (four pages) based on Howard Gardner's iconic Theory of Multiple Intelligences, It has become the model for mapping out learning modalities such as linguistic, hands-on, kinesthetic, math, verbal, and art. Understanding which you are informs your best communication method.
I'll wait.
Done? Surprised your strengths are something other than keyboarding? Now check the options below and see which fits what you learned about your personal storytelling skills: Continue Reading…