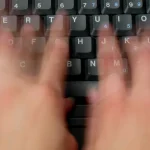 Today's guest post is by Zack Jeffries
One of the most common types of writing exercises is a writing prompt. Used to inspire a short writing session, prompts can be just about anything, from a few sentences to a single word. Some frequently-found prompts are a beginning paragraph (in order for the writer to continue), or a few words that make up a possible story element, like a character description or plot point.
Prompts are common in classroom settings, workshops, and critique groups. The accompanying writing sessions following a prompt are either timed or presented as homework. Almost always, we writers receive leeway to take what inspiration we will from a prompt and not incorporate it word-for-word.
Some Reasons Prompts May Not Work for Us
Authors with current Works-In-Progress (WIP) may be hesitant to use traditional prompts. Some of us who currently have a WIP feel like we can't spare the words or creativity.
We may fear that the time, energy, and writing dedicated to the prompt may become a distraction. Often the shiny, new idea can be more appealing than the WIP. Continue Reading…