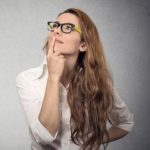 For this week's Throwback Thursday, we're looking at an excerpt from a previous post titled "Zero-Based Thinking" for Writers by Matthew Eaton.
What would you do if you had more time?
Would you use the extra time to improve your skills?
Would you spend it writing the next great novel?
Time is one of the only finite things in this world, and it is too precious to waste it on "time sinks" (those pet novels you can't seem to give up on even after ten-plus years of slamming your head against the desk in frustration because you can't complete it). You must evaluate your time usage with a new mind-set—one that will set you free and help you adjust to cutting your losses. Continue Reading…