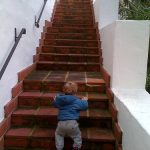 I thought it would be appropriate to start the New Year focusing on beginnings. Most authors know that the beginning or opening of a novel is the most crucial and carries the weightiest burden of any other scene or chapter in your entire book. The opening scene must convey so many things that often the author will have to rewrite it numerous times to get it right, and sometimes the best time to rewrite the opening scene is when your novel is done.
Why? Because at that point you have (hopefully) developed your rich themes and motifs, thoroughly explored your protagonist's heart and character arc, and have brought your plot to a stunning and satisfying conclusion (you can be sure we'll be going in depth regarding ending scenes later on).
 Starting Is Better Than Finishing
There's a saying (actually it's from the Bible) that goes like this: "Finishing is better than starting." And therein lies great wisdom, to be sure. You can start a whole lot of projects but the real test of perseverance, success, and merit is in the finishing. However . . . when it comes to writing a great novel, starting is more important than finishing—at least when it comes to the importance of your major story elements. If you have every essential thing in place in your first scene, you will have set up the entire book in a way that will lead you wonderfully to the finish line.
 Too many writers just jump in and throw together a first scene for their novel without taking the time to look at the heart of the story or the big picture—and that is what this Wednesday blog is all about. There are plenty of websites and blogs with great content covering every major element and technique needed to write a great novel, but few if any are really focusing on the big picture and the heart of what makes your novel terrific.
Literary agent Donald Maass hits this right on the head in his book The Fire in the Fiction, and I'm sure I'll be quoting from him a lot. Many literary agents and acquisition editors complain that despite good writing overall, many books are just missing something. They don't inspire, move, or touch the heart—and yes, believe it or not, they do expect to have that experience, at least in part, upon reading your first opening scene.
Impossible? Not at all. I have read some unbelievably powerful, moving, heart-wrenching first scenes—and those books were most often big best sellers. That's not to say all best sellers succeed at stirring this type of reaction—far from it! But those gems of books that can so move the reader so quickly are noticed. Big-time.
 First Page Checklist
So, be prepared to delve into the deep, challenging elements you will need to understand and then convey in your opening scene. I'm going to spend quite a few posts discussing these elements and concepts—many of which may be new to you. But in the meantime, download my first-page checklist  and look it over, for I'll be going over these elements. And be sure to subscribe to this feed so you won't miss any of the posts on your first scene essentials. Just to give you a glimpse of the first scene essentials, here are a few of the elements that should be making an appearance on your very first page:
Opening hook
Sympathetic introduction of your protagonist
Delving into an inciting incident or moment of conflict
A nod to setting
Hint of protagonist's visible goal, intentions, need
Establishing tone and voice
Introduction of the plot goal
So, I hope one of your major New Year's goals is to learn how to begin—begin a novel in a way that will leave readers eager to turn pages and keep reading. Tune in next week as we start excavating the first scene to reach the mother lode—the heart of your story. Be sure to subscribe to this blog feed so you won't miss out on any of the deep writing insights I'll be sharing!
This week, think about your novel and your current first scene. Read some "first scenes" from your favorite books and note what stands out, what affects you, what makes you want to keep reading. And if you feel inclined to share a line or thought or two, please post here so we can look at what moves you.