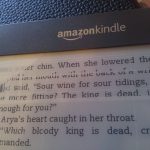 I touched last week on traditional publishing's downfall. I want to share some points I gleaned from the Smashwords eBook seminar I took. Mark Coker started his site just a few years ago in order to provide a site for authors to upload and distribute their books in electronic form to the world. Smashwords is just one distributor "out there" that gets your book into dozens of catalogs worldwide for readers to access.
Here are some of the interesting facts about traditional publishing and why they are going the way of the 8-track, the carrier pigeon, and the telegraph (I'm sure you can think of a gazillion more things that faded away as tech replaced it). Big publishers are facing major problems right now because of the structure of their industry. Below are listed some of the problems that are responsible, according to Coker (and these are greatly generalized. I'm sure there are some exceptions but these are the generalities governing the decline):
Traditional publishers judge books based on commercial merit. Why is this a problem? Because they don't really care about the reader. Because they are financially exposed to so much risk, they have to always second-guess the market years ahead, and money/profit is always their bottom line. It has to be or they would go out of business. They have to pay advances and they put a lot of investment into the printing, marketing, and distribution of a book (for it to become successful). Yet, 30 percent of books get returned to the publisher.
Traditional publishers have customer-unfriendly books. They look for famous authors and books with commercial potential. They set high prices and limit worldwide distribution. They are not primarily searching for great writers with amazing stories to tell. Acquisitions editors look for books they know will sell. Period. It's nice if it's a fresh, unique book, but few books by new authors are ever widely and generously promoted.
Traditional publishers have author-unfriendly policies: acquisition editors have to get lots of approvals first, acquire fewer books from proven authors, blackball authors who haven't earned, pay lower advances, and require authors to assume more responsibility for editing and marketing. They are not willing to work with authors for years to build a readership and following. If your book doesn't come "out of the gate" a blockbuster best seller and, in fact, flops with a mere few thousand books sold, good luck getting another book contract—ever.
In the weeks to come, we'll be tearing apart the trends and seeing what broad new horizons are out there for writers. It's an exciting, promising time—dare I say it? A brave new world out there that will welcome a wonderfully, beautifully written story. Do you have one ready to present to the world? Then subscribe to this blog and stay tuned for more.