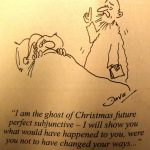 Writing for Your Life is all about being part of a tribe or community of other authors who want to find true success, develop 1,000 true fans (at least), and feel a deep sense of fulfillment and satisfaction. But I'm going to share something you may find strange, and maybe it's because my own spiritual journey has brought me to this undeniable conclusion—that if you just focus on yourself and yourself alone and striving to attain your goals, you will never be truly happy.
Did I just say that? Do I believe that?
Bah, Humbug!
Yes. Because I believe this speaks to the heart of human nature and the way we were created.  I believe we are not islands. We are meant to live and flourish within community. And I believe that the more we turn inward and think about ourselves, the more miserable we will be. Just like Dickens's character Ebenezer Scrooge.  I'm sure you get what I'm saying. What happens to many authors as they start promoting their books, getting caught up in marketing, social networking, and obsessing over sales is soon they are counting the coins and grumbling "Bah, humbug!" It may seem outrageous to say that I also believe we were put here on earth to learn compassion, generosity, grace, and the joy of giving.
Writing for Your Life requires you care about others—and put out some effort to help them succeed. What? Why should I bother, you are probably asking. You might say, "I have no time to do that; I'm too busy trying to eke out an hour here and there just to promote myself." Bah, humbug indeed! If you are now turned off and want to tune out, go ahead. Go count your stacks of coins in your lonely office and stare out the window at the falling snow—alone. Scrooge needed three ghosts to rattle some chains and wake him up to the fact that he lived in community with others—and he needed them as much as they needed him.
Turn and Face Outward
I can promise you this—you will find an unexpected joy in this paradigm shift as you watch your community of authors see successes with their novels, and some due to your efforts. There is great truth in the Golden Rule (do unto others as you would have them do to you) and in the Scripture that says it is more blessed to give than receive. Regardless of your spiritual bent, most know the truth in the adage "You reap what you sow." Or you maybe you believe in some sort of karmic balance in the universe (which is about the same principle) that says whatever you put out "there" will come back to you. There is something magical that happens when you turn your focus outward to help promote other authors, for it all comes back around to benefit you, your book, and boost your fan base and sales. And best of all, you will find true friends along the journey—fellow authors and loyal fans. What more could you truly want?
Who Should Leave the Room
If all you really want is to make money from your writing, then these types of communities are not for you. There is nothing wrong with that. Many writers see their writing career only as a means to make income and support their family. You may or may not have a passion for writing. But if that describes you, this concept is not for you. This community is for writers who have to write, who feel a strong passion about writing and see themselves as writing for life. Writing is their great love, and they want nothing more than to reach readers with their words, concepts, stories, expertise. They want this with all their heart. And they want to know how to go through year after year after year of rejections, bad reviews, flat sales, and other discouraging setbacks that threaten to rob them of joy or even make them ready to give it all up. We career writers need each other, and we need a creative framework that can bring us together and empower us individually and collectively.
Are you ready to forge new territory in this brave new world of publishing success? Then subscribe to this feed and over the year I'll be talking about ways we can help each other, and direct you to some great online communities that are all about doing this. We'll look at writing communities that are thriving and doing great things to promote their books and those of others. Watch for next week's guest post from Melissa Foster with World Literary Cafe.