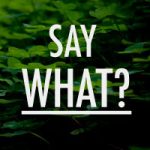 I see a lot of dangling participles. Okay, you are probably wondering just what the darn things are (so you can avoid them)! Here are some examples.
• While writing the memo, the phone rang [the phone is writing the memo]
• Having been told she was always late, an alarm clock was the solution [the clock was told it was late, and it's a girl clock!]
• Upon opening the door, the handle was stuck [the handle is opening the door]
• When writing a sentence, the pen slipped. [the pen is writing the sentence]
• While racing up the hill, my tears gushed out [the tears are racing up the hill]
• Driving down the street, the mansion came into view [the mansion is driving]
So, always be sure to match the initial action taking place with the correct subject:
• While I was writing the memo, the phone rang, or
• While writing the memo, I heard the phone ring.
These may be a bit tricky to spot, but be alert to when you start the sentence with a dependent phrase (incomplete) using a gerund (a word with ing). I prefer in my own writing to rewrite the sentence so that I don't start with an incomplete phrase. I feel writing comes across cleaner that way.