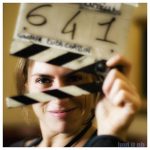 This year we are going to explore writing technique that is rarely, if ever, discussed or taught at writing workshops or by writing instructors, and that's utilizing cinematic technique in fiction writing. A few well-known teachers on occasion make mention of the need to show scenes in real time or have characters acting in the present moment, but I've yet to come across any who delve into the nuts and bolts of filming a story in segments using camera shots to achieve specific results.
 Why Shoot Your Novel?
So that's what my new year-long course will go deeply into—the whole fifty-two weeks of this year. Novelists can learn so much from screenwriting and film technique, and twenty-first century writers need to have some (if not many) of these tools in their writers' toolbox. Why? Because we live in a world that is inundated with movies, TV shows, video games. We live in a visual world, a world in which stories are shown, not told, and shown with power and creativity. Readers expect and want the stories they read to evoke visuals, to be immersed in a present-action story they can see. Readers want characters that jump off the page, alive and vibrant, engaged in a plot that they can picture—not full of abstract concepts.
This isn't to say every scene in every book should read like a movie or should only be high action and void of thoughtful passages or exposition. There are times when some scenes in a novel won't call for cinematic technique. But I will venture to say that few writers utilize the visual artistry of film technique much, if at all, in their novels, which often leaves their scenes flat and uninteresting.
What this course will do is introduce you to numerous directives or camera shots that screenwriters use when penning a script for television or the big screen. We're going to go deep into showing—and not just showing but how to show—which is vitally important. Using cinematic technique can supercharge your writing, make it burst with life. I like to say that if you are struggling with your writing and feel your scenes are often stagnant and flat, and you want to strangle your novel, think about shooting it instead!
So let's jump in and start the New Year with exploring strange new worlds and boldly going where few writers have gone before . . . but first, a bad joke.
Point and Shoot
So, a man walks into a bar, accompanied by a large piece of asphalt. He goes up to the bartender and says, "I'll have a whiskey." He nods at his friend and adds, "Oh, and one for the road."
If I told this joke to you and a group of your friends, I'm not sure you'd laugh as much as I'd hope, but one thing I am sure of—you would each have pictured this playing out in your head, and each would have seen a completely different "movie." Maybe you pictured this taking place in a Western saloon, with the man dressed in cowboy boots and wearing a Stetson hat. He probably had a Texan drawl, and maybe was chewing tobacco as he spoke. Maybe one of your friends imagined a Yuppie high-end urban bar, with soft leather upholstery and smelling of expensive Cuban cigar smoke.
However you envisioned this briefly described scene, no doubt your friends "saw" something wholly different in their minds. Here's the point: if you had watched this in a movie on the big screen, you and your friends would have seen the exact same things. You wouldn't be arguing later whether the piece of asphalt was black or gray or the man was wearing that hat or not. The film itself provided all the details for you, leaving little to your imagination.
 Tell It Like You See It
With fiction, though, writers are presented with an entirely different situation. The reader reading your novel will only see the specifics if you detail them. And even if you do, it's likely she will still envision many of the scene elements different from what you hoped to convey.
That's not necessarily a bad thing. In fact, leaving out details and allowing the reader to "fill in the blanks" is part of the reader-writer relationship. In a way, a novel becomes much more personal than a movie, a little bit of a "choose your own adventure" quality. Many love novels just for that ability to "put themselves" into the story, whether it be by relating to a protagonist, seeing people we know in the characters presented, or feeling like we are going through the trials and perils presented by the plot.
The challenge and beauty of the artistic palette a writer uses raises numerous questions:
How much or how little detail do I (or should I) put in my novel in order to help the reader see the story the way I see it? And how much should I leave to the reader's imagination?
How can I best write each scene so that I "show" the reader what I want him to see?
How can I write scenes that will give the emotional impact equivalent to what can be conveyed through a film?
We'll be going deeper into these questions and exploring the many ways camera technique can "show" instead of tell. Get ready to wear some new hats, for you're going to learn how to not only write but direct and "film edit" your story for greatest impact.
This week, think about the questions above. Consider the ways you "show" a scene unfold so that it plays out like a movie scene. Do any novels come to mind that you've read recently in which the author has painted visually dynamic scenes that you can picture as if watching a movie? Thumb through that novel and find such a scene and take a look at the way the writer used specific details to make the scene easy to picture, playing in your mind like a scene in a movie.