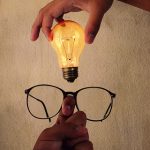 In continuation of last week's post on using Pull Back shots in your novel, we're going to look at a couple more facets to this very powerful and versatile shot. When the camera pulls back and shows a wider scope in a scene, more is revealed. When we pull our attention away from something particular or specific to something with a broader scope or a wider perspective, we in a sense do the same thing. What makes a Pull Back exceptionally powerful in a novel is the way it can work on two levels at the same time—literally and figuratively. But whether you use it for just one or both purposes, A Pull Back always grabs the reader's attention. It says, "Look at the bigger picture. Now see what you didn't see before." But Pull Backs do even more.
Pulling Back Gives a Sense of Finality
Here's a brief example from The Constant Gardener—a scene beginning with a Close-Up, then pulling back briefly to make an emotional statement. Pull Backs are all about revelation and emotional punch. This scene shows Sandy Woodrow, a man who works with the protagonist Justin Quayle and who had secretly been hopelessly, secretly in love with Justin's wife. After Tessa's death, Woodrow is desperate to find a letter he had sent her, fearful that Justin might stumble upon it. We see him here rummaging through Justin's office drawers.
Old Christmas cards. Old invitations cards marked with a cross for "no" in Tessa's hand. Others, more emphatically marked "never." Old get-well card from Ghita Pearson, portraying Indian birds. A twist of ribbon, a wine cork, a bunch of diplomats' calling cards held together with a bulldog clip. But no small single sheet of HM stationery Office blue, ending with the triumphant scrawl: "I love you, and I love you and I love you, Sandy."
Woodrow sidled swiftly along the last shelves, flipping open books at random, opening trinket boxes, acknowledging defeat.
In this short narrative we get the sense of all the insignificant things Woodrow encounters in his frantic search. Instead of just saying he gave up in frustration, LeCarré uses a Pull Back from the intimacy of the desk to show Woodrow moving along the shelves and with those last two words, leaves us knowing just how his character feels.
A Figurative Exclamation Mark
Remember, Pull Backs are all about revelation and emotional reveal. Novelists wanting to use a figurative exclamation mark in a scene will do well to consider using this camera shot. Yes, Close-ups can reveal important details and provide aha moments. But Pull Backs are where the realization and understanding are shown. This is the place the writer pulls plot elements together, giving a wider scope of understanding of the overall story being told. Your character can zoom in to a clue and see it close up, while doing a mental Pull Back upon realizing this clue has just solved the crime.
Picture a scene in which a character is staring at her hands as she kneels next to a body she's just found in her kitchen. She sees blood on her fingers. Then, the camera (her attention, purview) pulls back to show blood on the floor all around her, triggering a reaction to this "bigger" discovery. It may then pull back even further to include the entire room, which carries her scream throughout the house.
So, think of Pull Backs for your "aha" moments. They provide the moment of realization, of getting the bigger picture, of revealing something important. Whether for a literal reveal or an emotional one, Pull Backs are camera shots that pack a punch and if used wisely, will supercharge your novel.
A Big Aha Moment
Here's a bit of one of the opening scenes in the movie Signs by M. Night Shyamalan (2002). Rather than beginning with an Establishing Shot showing just where his characters are, Shyamalan wants to surprise the viewer with a supercharged moment. I imagine him thinking about his high moment—the moment of revelation in which we see the "big picture" of what is really happening in this scene—and determining he wants to pull back to gradually reveal this. In order to build to this moment, he chooses more close-up shots to lead in, keeping the viewer in tension wondering what is going on and only seeing a bit of the setting. Shyamalan does a great job using cinematic technique to create suspense and then paying off the high moment with a pull back.
 BOY (O.S.)
Dad!
Graham looks in the direction of THE BOY'S VOICE. He's close. Graham picks up Bo and rushes through the crops.
He finds MORGAN standing with his hands in the pockets of his pajama bottoms. DOGS ARE BARKING NEARBY.
GRAHAM
Morgan, what's happening?
Graham puts Bo on the ground and moves right in front of Morgan. The ten-year-old boy looks deep in thought. Graham takes hold of Morgan's chin and turns his face so he's looking straight at him.
 GRAHAM
Are . . . you . . . hurt?
Beat. Morgan's eyes reveal he's come to some answer.
MORGAN
I think God did it.
Beat. THE DOGS KEEP BARKING.
 GRAHAM
Did what, Morgan?
Morgan takes hold of his father's unshaven chin and turns his face. Graham is forced to look to his right. Beat. Graham sees something.
Graham Hess slowly rises to his feet. He starts moving forward towards something.
He walks through a thin layer of crops and emerges in a clearing. Two German Shepherds are running back and forth. They are clearly agitated.
Graham looks around at the THOUSANDS OF CORN STALKS LYING FLAT ON THE GROUND. THEY LAY IN A GIGANTIC CIRCLE, A HUNDRED FEET WIDE.
Graham Hess looks around in a daze as he walks out into the center. Merrill, Bo, and Morgan follow him.
The dogs keep running and barking as WE PULL BACK AND REVEAL THE FOUR MEMBERS OF THE HESS FAMILY STANDING IN THE MIDDLE OF THIS PERFECT, GIGANTIC CIRCLE.
WE KEEP PULLING BACK TO EXPOSE THIS EERIE DESIGN—FIVE HUNDRED FEET WIDE—SITTING IN THE MIDDLE OF AN ENDLESS, UNTOUCHED CORNFIELD.
This scene is key to setting up the premise of the movie—the invasion of aliens on earth. Although this movie is really not about aliens at all. The title —Signs—is a motif, and the "signs" of alien activity in Graham's cornfield, as well as all over the world, serve as signs of something much larger, and much more important. The Pull Back here in the beginning of the movie puts emphasis in the signs uncovered and set the stage for the movie's plot, theme, and motifs. A truly important "aha" moment that uses the powerful camera shot Pull Back.
This week, as you watch TV or movies, see if you can catch some of these Pull Back shots. See in what ways they're used and what's revealed or highlighted by their use. See if these scenes give you some ideas of how you might use a Pull Back in your novel and share some thoughts in the comments.