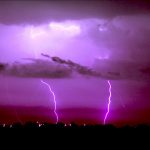 Brainstorming. The word evokes turbulent images of roiling clouds clashing with thunder and lightning. We all wish our ideas would be so powerful and pregnant with possibilities. The word also spurs images of trouble and danger, as if we are dealing with natural elements out of our control.
But that's the point, isn't it? When we brainstorm for ideas, our hope is to relinquish our hold on the elements of creativity, so that we can be swept up in the storm of ideas, and hopefully come through with something both tangible and inspired we can use in our writing.
Maneuvering through the Stormy Mess
Anyone who writes at some point has to brainstorm. We start with an idea or something as simple as an image, and from there, pushed by the desire to morph that idea into something bigger, we come up with other ideas that start linking together, and whether we conceive of these ideas in a logical fashion or more of a stormy mess, there is some sort of process whereby we move from initial concept to a creative work. Whether we are writing a short blog post or magazine article or a full-length novel, at some point we have to brainstorm.
In dealing with hundreds of editing clients, I notice that this phase of the creative process related to writing seems to be the most challenging, nebulous, and frustrating for writers. Some of us writers are fortunate to have friends and/or family members that help us kick around ideas and get our creative juices flowing and problem-solve plot points. But most of us often (and sometimes by choice) ideate on our own, in the confines of our lonely office or in a quiet cubicle in the library.
 We Often Dread the Process
Needless to say, creativity isn't something that we can just turn on full force, like a water spigot. Oh how we wish we could. It seems some people are just bursting with ideas and can't get them all down fast enough on paper. They seem to be able to convert those bits of ideas into full-fledged concepts and detailed plots without much effort. But most of us don't find this process so easy.
Often I give detailed instructions to my struggling writing clients on how to brainstorm ideas for scenes and characters. They seem intimidated by the whole idea of brainstorming, afraid they will not come up with anything good. Instead of seeing that stage of the writing process as fun and exciting, they dread and avoid it. It's puzzling and frustrating at times to rack your brain trying to jiggle loose some good ideas. Sometimes we feel like we are banging our heads against a wall, but to no avail.
Through writing more than a dozen novels, I've experimented with various techniques to help me brainstorm ideas. Some work better for me than others, such as writing all my scenes on index cards. But before I can get to the index card stage, I still have to move from random bits of ideas to full-fledged scenes.
Next week, I'll go into the method I feel is the best way to brainstorm. The process from idea to finished product shouldn't be intimidating and miserable. Creativity should be fun and exciting. Yes, a bit of hard work, but that's to be expected.
Do you have ways of brainstorming ideas that you'd like to share with other writers? Let's hear them.
Feature Photo Credit: ViaMoi via Compfight cc