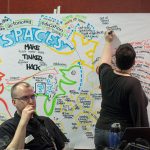 Have you ever tried to brainstorm an idea, only to find yourself with pages of information, but no clear view of how it all fits together? Or you look down at all the random words and have no idea what to do next?
Last week I talked about the difficulties of brainstorming, and how intimidating that process can be. Many writers have no clear methods to help them generate ideas, or take ideas to the next stage, which will lead to a finished product of a blog post, article, or work of fiction. This is where the technique of mind mapping can help you.
A Different Kind of Map
Mind maps are much like a travel map, although a bit chaotic at first glance. A mind map is created on a piece or paper or tagboard to capture and connect ideas so your brain has help in moving from the idea stage to the execution stage. This is the place writers often have the hardest time (myself included) in their creative process, for it's here where we shift from pure inspiration to the nuts and blots of logical organization and planning. So mind maps act as a bridge to get you across that daunting chasm.
Ways a Mind Map Can Help Your Writing Process
One great benefit of mind mapping is it can quickly identify and understand the structure of a subject or theme. Mind maps help you see the way that pieces of information fit together, and help you remember information, as they hold it in a format that your mind finds easy to recall and quick to review.
Instead of writing pages of notes, mind mapping is a way of word/idea associating that helps generate new ideas. Reading through pages of notes can be tedious and doesn't often aid us in organizing those ideas.
When I brainstorm my novels, I write pages and pages of notes, as freewriting is a method that really works for me in drawing out new ideas, characters, and themes for my stories. However, if I just stopped at writing notes, I would be really stuck as to how to proceed. It's very hard to go from pages of notes to jumping in and writing a novel straight through, so there are mind mapping techniques—visual and tactile aids—that help me bridge idea to execution.
Manageable Chunks
When you mind map, you use one piece of paper. You break large projects or topics down into manageable chunks so that you can plan effectively without getting overwhelmed and without forgetting something important. By creating a "shape" of your ideas on one piece of paper, you find it easier to remember the components, which will aid when you get down to actually writing. You can use a mind map when brainstorming ideas, to summarize info and notes, consolidate info from different sources, to think through problems, and to study and memorize info.
How to Draw a Mind Map
 Write the title of the subject (or a key idea) you're exploring in the center of the page, and draw a circle around it.
As you come across major subdivisions or subheadings of the topic (or important facts that relate to the subject) draw lines out from this circle, like the beginnings of a spiderweb. Label these lines with these subdivisions or subheadings.
As you "burrow" into the subject and uncover another level of information (further subheadings, or individual facts) belonging to the subheadings, draw these as lines linked to the subheading lines.
Then, for individual facts or ideas, draw lines out from the appropriate heading line and label them.
As you come across new information, link it in to the mind map appropriately.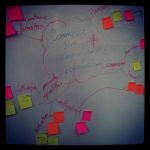 A complete mind map may have main topic lines radiating in all directions from the center. Subtopics and facts will branch off these, like branches and twigs from the trunk of a tree. You don't need to worry about the structure you produce, as this will evolve of its own accord.
Software tools are available if you want to do this the techie way. Bubbl.us, MindGenius, iMindMap, or Mindjet can improve the process by helping you to produce high quality mind maps, which you can then easily edit or redraft. Here's a great review of the top five mind-mapping software tools.
 Using Mind Maps Effectively
Once you start playing with mind mapping, no doubt you'll come up with methods and variations that work for you. Here are some tips:
Start with a big piece of paper, but preferably a large piece of tagboard.
Use single words or simple phrases. Single strong words and short, meaningful phrases can convey the same meaning more potently. Excess words just clutter the mind map.
Use color to separate different ideas. Colors help you to visualize the mind map for recall and can help to show the organization of the subject. I use different colors for each character when brainstorming scene ideas, to indicate whose POV the scene will be in.
Use symbols and images.  Pictures can help you to remember information more effectively than words, so, where a symbol or picture means something to you, use it. You can cut out pictures from magazines or do Google searches for images and print out pictures that you can then tape onto your chart.
Use cross-linkages. Information in one part of a mind map may relate to another part. Here you can draw lines to show the cross-linkages. This helps you to see how one part of the subject affects another.
I find getting back into "kindergarten mode" is the most stimulating creatively. Don't be afraid to pull out the colored pens, sticky notes, crayons. Let your right brain have some room to play, and you may be surprised to see how much easier those ideas will flow. Using this technique of mind mapping might be just the thing to help you transform your random bits of ideas into coherent concepts that will give you firm direction on how to move forward to executing a great piece of writing.
Next week, I'm going to give novelists some specific examples on how mind mapping can be terrific for brainstorming all the components of a story. By sharing some techniques I use to bring chaos into order, I hope to help you feel less trepidation and more excitement over this stage of the novel-writing process.
Happy mapping!
Inserted Photo Credit: formamind via Compfight cc
Feature Photo Credit: opacity via Compfight cc