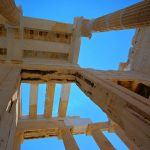 Take a moment to imagine your novel as a house. Or more like an ancient Greek building, like the Parthenon. Made completely of marble, heavy marble—including the massive roof. Then imagine how strong those columns have to be to support such a gargantuan weight. One replacement column recently installed on the Parthenon was weighed in at around fifty tons! Although no one has ever weighed the entire Parthenon, architects state that just the cast iron that supports the dome of the US Capitol building in Washington, DC, has been estimated at around 8.9 million pounds. It's hard to believe any structure made of any materials could hold up such weight.
But these buildings have remained standing through centuries, without collapsing. Which attests to the strength and reliability of the materials used in these structures—as well as the brilliance of the architects that designed them.
Novelists are architects too—architects of story. Just as a level, appropriate, and rock-solid foundation is needed as a base to any lasting building, a writer must have a similarly strong and informed foundation in order to write strong novels. Upon such a foundation a great novel can be built. But as much as the right foundation is essential, the structural integrity of the entire project must be exact or the "building" will collapse.
So if we liken the completed novel to the roof—the very heavy marble roof—then consider the pillars supporting the roof as the key to success. We want "fifty-ton" columns to support our roof so it will not only look sturdy but stand the test of time.
Not Just Pretty to Look At
Aesthetics are a main concern in construction. Architects are praised for designing a beautiful, captivating house or monument. But structural integrity cannot be sacrificed on the altar of beauty. They go hand in hand. I've always thought it a shame that those exquisitely crafted ice or sand sculptures I've seen constructed as entries in a competition were so temporal. One wave . . . or one day in a warm room . . . and those magnificent works of art disappeared. Although I understand the joy experienced in the act of creating, it seems a waste to put that much effort out to create something so beautiful and detailed, only to watch it melt before your eyes.
Some novels are like those ephemeral sculptures—adorned with lovely writing, an intriguing premise, and perfectly edited to present the appearance of a great novel. But when examined under the scrutiny of a "construction engineer" (read: savvy reader), the pillars that support the story are flimsy and weak. Collapse is inevitable, and probably has already occurred—even in the first few pages. And the sad thing is the writer can't see it. Or upon learning the story has collapsed, can't understand how in the world that could have happened.
She might say, "But I had a great idea. I worked out a clever, fresh plot. I have great characters. So what went wrong?"
Take the Requisite Construction Course
I'm married to a building contractor, who is a stickler for structure. He pores endlessly over blueprints before beginning to construct a house, often finding mistakes the engineers have made. He understands structure so well that he can spot any little thing that might compromise the support of the house. It could be a prescribed nail pattern for a sheer wall, or the thickness of the rebar noted to be used in the concrete forms.
This type of knowledge and deep understanding of construction is not something that can be learned by watching a few TV shows or skimming through some do-it-yourself books found at The Home Depot. A lot of this kind of knowledge comes from on-the-job experience, which is mostly how my husband learned his skills—assisting, watching, and questioning the expert building contractors he worked with for years. Hands-on experience coupled with diligent "book" learning.
And so, too, writers, to construct solid, lasting novels, need both "hands-on" experience as well as "book" learning. I use the term "book learning" as a catch-all for any type of informational instruction that is not a part of actual practice—which is sitting down and writing. This can be knowledge gained by attending workshops (online or in person), conferences, writing retreats, reading blog posts and articles on writing, studying writing craft books, and working with writing groups and critique partners. And now here, on Live Write Thrive, you'll be given some great "book learning" you can couple with your "hands-on" experience.
An Introduction to the 12 Key Pillars
I've come up with a "construction" of my own, to make teaching these essentials easy. In last week's post, I talked about the need to carefully plan a novel in advance, just as a builder would do when getting ready to build a house. In like manner, we're going to look deeply at twelve key pillars novelists need to learn to build in order to construct a solid novel.
The primary four—likened to the important corner supports of a building—provide the main framework upon which the entire story rests. The other eight secondary pillars add the additional strength needed to hold up the novel. Once a write sets in place the four solid corner pillars, the other eight can be fashioned and positioned. But without those four major supports, the entire structure will collapse.
 The Four Corner Pillars
Since these four pillars are the big supports of your story, we'll be spending the most time on them. These are what I see lacking in many of the novels I critique, and usually are the primary cause of construction failure. A novel that ignores or belittles the importance of any of these four pillars will be doomed to fail. Every time.
Concept . . . with a Kicker
Conflict . . . with High Stakes
Protagonist . . . with a Goal
Theme . . . with a Heart
Next week I'll give a brief overview of these four pillars to explain why they are so important and how they act as supports in your story. and since we won't be getting into the other eight pillars for a while, I don't want to leave you guessing about them. Here they are:
Plot and Subplots . . . in a String of Scenes
Secondary Characters . . . with Their Own Needs
Setting . . . with a Purpose
Tension . . . Ramped to the Max
Dialog . . . Compressed and Essential
Voice . . . Unique for Each Character
Writing Style . . . Concise and Specific
Motifs . . . for Cohesion and Depth
You Have to Pass Every Inspection
Builders are required to pass numerous inspections before the house they're building can ultimately get "signed off." If anywhere along the line the inspector finds something wrong—not up to code, or in conflict with the blueprints—the builder has to fix it in order to pass that inspection.
So here's the fun part! With each of the 12 pillars, you will get an inspection checklist of 12 essential questions. These are questions you will ask yourself about your novel and must be answered solidly to ensure you have a strong pillar. I'll provide a pdf checklist you can download and print out (as often as needed) to use as a worksheet to help you firm up your pillars. At the end of this course you'll have 12 checklists, with a total of 144 questions. By answering all those key questions (which are meant to ensure you've done a proper job constructing each pillar), you will know you have built well. A great tool you'll be able to use on each and every novel you construct!
Next week we'll start in with the first crucial pillar of constructing a novel: developing a concept with a kicker. Any thoughts on being a "building contractor"?
Photo Credit: jurvetson via Compfight cc