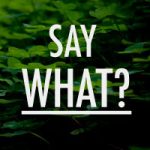 In another blog post we looked at the phrase "Whom shall I say is calling?" and learned that such use of whom is incorrect. The trick to knowing whether to use whom or who in these instances is to remove the subject-verb combination that immediately follows the pronoun. Don't say "huh?" Let me show you.
With that famous phase, when you delete those words I mentioned ("shall I say"), you would get this:
You can always replace whom with him (object) or who with he (subject) to check if you are correct. Saying "him is calling" is not correct.
Watch what happens when I take out the subject-verb words in these sentences:
The police have captured the man whom

they think

robbed the bank.
The client hired the accountant whom

she remembered

was helpful.
He didn't want to invite the woman, whom

his friend had said

was a bore.
Clearly, whom is wrong in these instances. That's because the pronoun (whom) connects to the action of that person (robbed, not think, in the first example), not the action of the subject of the sentence (I tried to explain this in as simple a way as I can here, without getting too grammar techy). "The man … robbed the bank." In other words, "He" robbed the bank (subject), not "him."
What helps me in these cases is to group those words together in my head:
The man who robbed the bank.
The accountant who was helpful.
The woman who was a bore.
I hope this helps you understand whom better. I've been studying the advice of the grammar instructors who I feel know what they are talking about!