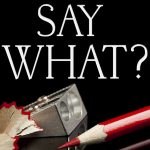 In an article about a recent mountain hike, the author said this about his return trip: "The decent was more challenging than the ascent."
A proofreading error, I'll wager. But it presents a teachable moment.
Decent (DEE-sint) means acceptable, presentable, polite, socially acceptable. It can also mean clothed.
"If everyone is decent we'll come in," the coach hollered as he charged through the locker room door.
Or it can mean good, but not necessarily excellent.
His grades were decent, but not good enough to get into an Ivy League school.
Descent (deh-SCENT) is what the mountain climber meant to write when referring to his hike down the mountain. It refers to downward movement—either physically or socially.
George's drinking led to a rather hasty descent from the social circles of Peyton Place.
It can also refer to a person's ancestry or lineage.
Miami is home to many persons of Latin American descent.
And then there's dissent (dis-SENT)—when you're at odds with someone or take a stand against the prevailing view.
Judges take a dissenting view when they oppose the majority ruling in a legal case.
Dissent is actually essential to a thriving democracy—just try to be decent in the way you talk about it.