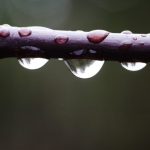 It may seem simplistic to say that scenes are basically mini novels, with a beginning, middle, and end. But this is a simple and helpful way to look at scenes. The main difference is that your scene endings aren't the end of your story but a specific way to hook the reader into reading further.
That word hook should tell you something. Yes, your scene ending needs just as strong a hook as the beginning. What you want more than anything is for a reader who is thinking of taking a break from your book ("I'll just read to the end of the chapter and then stop") to be unable to put your book down upon finishing a scene. The last lines of the scene hook her, then as she begins the next scene, she's hooked again. Pulled further into your story, like a fish on a line.
What's the bait on the hook? Your promise to deliver.
Promises, Promises
Think of each scene opening as a promise. Or many promises. Overall, you're promising your reader you're going to give her a ride. Entertain her. Engage her emotions. After reading the description or back-cover copy of your book, she's anticipating a particular kind of story. That description is the promise you make to readers of the story you will tell them.
Despite even the most fascinating description, for the most part, readers are dubious. They aren't opening your book with heightened excitement. They are usually wary and ready to make a quick negative judgment about the merit of your book. Ready to quit. Why? Because 1) reading a novel is a huge investment of time. A novel needs to feel worthwhile to commit such time to it, and 2) readers have been repeatedly disappointed by books promising them a terrific story but failing to deliver.
Maybe if a reader is a super fan of your novels, he'll start in with that kind of excitement and expectation. I always feel that when I hold a new Elizabeth George mystery or Patricia McKillip fantasy in my hands. I have high expectations. Why? Because I've been promised exciting stories and these authors have consistently delivered.
You may not have thousands of super fans yet. And frankly, even if you do, they are still going to expect you to deliver. Maybe even more than someone who has never read any of your books.
So let's start at the beginning. At the hook.
Overall, your novel needs a hook. That's the killer concept with a kicker we looked at last year and that I cover in greater depth in The 12 Key Pillars of Novel Construction. When you tell someone a brief summary of your novel's premise, and they say to you, "That sounds okay, but what's your hook?" they're talking about that unique story concept that adds the twist and interest to an ordinary plot.
Let's take this down a notch to the scene level. One of the items on the scene checklist we've been going over is the hook. The first item on that list is "My scene has a strong opening line (hook) that grabs the reader." And the second-to-last item is "My scene ends with a bang—with either some insight for the POV character, something important happening, or some surprise that leaves the reader satisfied." Thinking in terms of two hooks—placed at the start and end of each scene—helps you envision how all your scenes are linked (or hooked) together.
I hope you've been reading the Wednesday posts this year. So far we've examined five different best-seller first pages, and you've seen why they work. Part of that success in drawing a reader in is the opening hook.
Just What Is a Hook?
Some feel the hook is just the opening line. I don't like to narrow it down like that. Oftentimes the first few lines create a hook. You can have a bit of setup that leads to a strong statement or intriguing concept.
What you want to keep in mind here is not so much the mechanics as the effect. You're going for brain engagement, and what researchers have found is what grabs our attention is the unusual, a sniff of danger or trouble, something that seems wrong or out of place, and showing a character that evokes empathy.
Hooks are more than just a promise of a good scene ahead. They can accomplish things like establish a character's mind-set, paint a picture of the setting, or convey a surprising piece of information. This applies to both the opening hook and the ending hook. Many authors spend a lot of time honing those hooks to make them memorable, and some of the great novels in history have their first lines often quoted.
A hook that's created just to grab attention and that doesn't actually set the right tone or smoothly connect to the purpose of the scene can be seen as a gimmick and can create confusion. Don't succumb to gimmicky first lines just because they sound clever. They're going to fall flat and feel cheap. This applies to catchy last lines of scenes.
Whether a few first great lines can carry enough weight to make any novel memorable and acclaimed is debatable. But there's a lot to say for a novel that has strong hooks. The more scenes in your novel that have those strong hooks, the better chance it will have to stand out above the masses of published novels.
You Need More Than a Hook
Of course not every scene is going to provide a great opportunity for a dynamic hook. But it can't hurt to work on them. Going back through your scenes after you've written, rewritten, and polished them is a great time to ponder your hooks. If you can tie in your opening hook with your closing hook at the end of the scene (conceptually or by repeating a line or word or phrase), you can pack a powerful punch.
Once you've created that great opening scene hook, are you off the hook? No, because now that you've made your promise to deliver a great, intriguing scene, you have to, well, deliver. If you make it your aim to craft every subsequent line with the creativity and punch you did with your hook, you can take your scene to the heights of magnificence. Is that too much to expect? It may be difficult, but it's a worthy goal to strive for.
So don't blow out a breath of relief once you've created that great first line. Yes, that's a terrific accomplishment. But you're not off the hook, and you don't want your readers to slide off either. Way too many scenes I've critique open well, with a strong hook, but quickly lose my interest because that same level of attention was clearly not given to the rest of the scene.
Two Key Things to Keep in Mind about Scene Openings
Keep these two things in mind, which I've been emphasizing over these last posts: the purpose of the scene, which is embodied in the high moment at or near the end of the scene, and the character's change that she will undergo by the end of the scene.  By starting your scene in the middle of action (in medias res) just a bit before your high moment, establishing the tension your character is feeling (inner conflict) due to the situation she is in at this point in your story, you help ensure a tight, effective scene.
By breaking down scenes into those three basic parts—beginning, middle-climax, and end—it will help you formulate scenes that feel complete and satisfying.
Two More Things
What else needs to be in your scene opening? Two very important things that are often neglected by writers: establishing how much time has passed since the last scene with these characters and the visual setting. No matter whether you open a scene with dialogue, narrative, internal thinking, or some other component, within a couple of paragraphs it should be clear to the reader how much time has passed since the last scene and where the characters are.
For every new locale or setting, you need to paint enough of a picture (through the POV character's senses) for the reader to feel transported there. This includes elements such as time of day, time of year (season), weather, immediate surroundings (description of interior room or street and neighborhood details if outside). Including these two components helps set the mood or tone of the scene as well, so use these to your advantage.
Choose impacting locales and weather to add texture and even tension to your scene. A character getting a flat tire on a country road while hurrying to a job interview can face added stress if she has to change that tire in the middle of a thundershower.
So far we've looked at these items on your scene checklist:
____My scene has a strong opening line (hook) that grabs the reader
____My scene starts in the middle of action in present time and moves forward
____ My scene gives a brief nod to setting through the character's POV
____My scene is full of sensory detail: smells, sound, textures, weather, etc.
____ My scene clearly indicates how much time has passed since the last scene with these characters as well as the previous scene in my novel (if different)
While I'll go into more depth about the idea of moving forward in time, know that while this isn't a hard-and-fast rule, for most scenes it's the best rule. One of the greatest problems with scenes is the failure to encapsulate the action in a short period of time. Scenes that start in one moment, move forward in what I call "real time," and then end soon after (after building to the high moment) tend to be the most efficient to move the plot forward with strong pacing and tension.
So think about your scene openings. Work on those hooks—not just the opening line but the "hook" of the scene—what that high moment is that makes it zing. And the ending hook that makes readers read "just one more chapter."
Got any great opening hooks you'd like to share (either yours or from a novel you've read)? Why do you think it works? Share in the comments!