Writing a terrific novel is a complex endeavor. And while there are hundreds of books, podcasts, and blog posts that teach aspiring authors how to structure scenes and plot out a solid story, none implement the most intuitive and effective method for success.
Novels are made up of dozens of scenes, and regardless of genre, time-tested structure dictates what key scenes are needed and where. Most writers are familiar with some of those scenes: the Inciting Incident, the Midpoint, and the Climax, to name a few.
But novelists need more than a few landmarks to find their way across the tricky terrain of novel plotting.
They need a surefire method to organizing all their scenes.
In my new video course, you'll be introduced to an innovative, intuitive method for arranging your scenes and crafting a beautifully structured story. Nearly every great story, whether a novel, a play, or a movie, follows this time-tested structure. And it isn't all that hard!
The ten key scenes are your story foundation. If you don't construct them well, your story will collapse.
In this course, you'll learn these crucial elements of novel structure:
What the 5 major turning points are and where they're placed in your novel
How to know exactly where to start your story and how to set up your premise
What the ten key scenes are that serve as the framework for your novel
What pinch points are and why you need them
How to craft those essential twists and where they're placed in your story for greatest impact
Why your protagonist's goal is the key to great storytelling
What the six stages of character transformation are and where those specific scenes go
Don't guess what scenes you need in your novel. Don't guess where your scenes go. Guessing usually leads to novel failure.
With the method, you'll guess no more. You can write terrific novels, every time, if you follow this blueprint!
The course includes video modules for each lesson, slides and movie clips, and charts, along with passages from novels, to help you fully understand the content. You'll also get handouts you can download, including worksheets to use to help you brainstorm your turning points, key scenes, and the protagonist's transformational journey.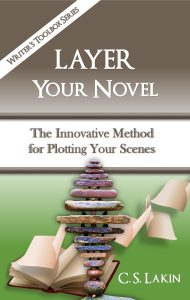 This course lays the foundation for the intuitive layering method outlined in Layer Your Novel: The Innovative Method for Plotting Your Scenes. Once you've mastered your ten key scenes, you'll be ready to brainstorm your second layer of scenes. An online video course will be added to this school later this year to help you layer your next ten scenes!
International best-selling author Jerry Jenkins says of this layering method:
"I loved this book. There is so much here, yes, even for us pantsers—because in every novel manuscript there comes that point where we wish we were plotters. And as much as C. S. Lakin eschews winging it, her layering method actually allows for enough creativity and innovation that we get the best of both worlds.

If the idea of outlining repulses you, admit there are times when you wish you'd done it, and give Layer Your Novel a peek. It'll make you a better storyteller."
If you enroll in the course before August 20, 2018, you'll get the course for only $49! That's lifetime access with a 30-day money-back guarantee. So there's nothing to lose by giving this a try. It may make novel writing so much easier for you!