Today's guest post is by Berendsje Westra.
Do you write in a language that is not your mother tongue? If so, then you're an exophonic writer, a term coined in 2007 by three German academics.
Exophony is practiced by many writers around the world. Pulitzer Prize­–winning author Jhumpa Lahiri published a novel in Italian in 2018. Xiaolu Guo wrote A Concise Chinese-English Dictionary For Lovers, having written her previous books in Chinese. And Kader Abdolah, who moved from Iran to the Netherlands in his thirties, writes his novels in Dutch. These are just a few names, but, really, the list is endless.
There may be various reasons for choosing to write in a language that's not your first. Writers may choose a particular second language for their writing because they'd like to reach a wider audience. Or, maybe a writer immigrated, and when they signed up for writing classes or other writing opportunities, there was only a "foreign" language available to them.
Maybe there's no particular reason for writing in a non-native language, other than that it feels right. The latter is the case with me. I was raised bilingually in the Netherlands and speak Frisian and Dutch, but I only write in English.
Here are some things to consider when you write, or aspire to write, in a language that is not your mother tongue:
1. Educate yourself through reading: read as a linguist learning the language and as a writer learning the craft.
When you write in a foreign language, you must master that language well enough to write in it comfortably, which means working up to a (near) native level of proficiency. Accept that this will take a considerable amount of time and effort.
What will accelerate your language and writing skills is reading widely and actively in your chosen language. Always keep pen and paper ready to jot down and look up the meaning of unfamiliar words. I know from experience that it can be exhausting when you constantly have to stop reading to write down and look up another word, but it has to be done.
Read novels, magazines, and newspapers, online and in print. Study casual expressions because this may help you craft authentic-sounding dialogue in your own writing. I learnt lots of new vocabulary and slang expressions I hadn't been taught at school by reading British women's magazines, such as men "doing runners" or "having it away."
You might also consider joining a critical reading group for people who read novels in your chosen language. I'm part of an online (nonfiction) Place Writing discussion group and have found the sessions very beneficial to my writing and a great opportunity for conversing in English with native speakers.
Immerse yourself in your chosen language, but don't forget to write.
Ideally, you should follow language and writing classes. Look for local (community) colleges or universities that offer courses or go online. You could sign up for classroom-based education or study a language by yourself, in your own time. There are also many free writing modules available online. Have a look at FutureLearn, for example, or Google it and lots will pop up.
What you could also try is a tandem language exchange, which is what Elizabeth Gilbert talks about in Eat, Pray, Love. She has lunch with Giulio twice a week so he can converse in English and she in Italian (page 60). If there's no such thing in your area, or online, reach out to people and set it up yourself!
What you might also consider—although I realize this isn't for everyone—is getting a teaching degree in your chosen language. You would receive in-depth language training, and there is often funding available too.
If your language level is still quite basic at this stage and you don't see yourself moving abroad to learn it, you could also improve it by studying with the help of YouTube videos, interacting with native speakers by playing computer games, and watching TV series (with subtitles).
Don't think you can cut corners by uploading your writing to an online translation machine, because that won't work. You'll still need enough know-how to make lots of corrections. You could use Grammarly (there's a free version) when you write in English, but you'd still need to make corrections there too as it doesn't always understand context.
Join a writing group for your chosen language.
You must join a writing group for your chosen language. It's important to receive feedback on your work and even more so when you write in a language that's not your first. I have been part of an online writing group for a number of years, and the feedback I've received on my writing and my use of English has been indispensable.
If you can't find a writing group to join, start one yourself. There's a huge and very supportive writing community on Twitter, and you might find like-minded and interested writers there. If you're not online yet, you should really get with the program anyway, because it's another opportunity for communicating with native speakers.
Remember, though, that when you join a writing group, you are expected to give constructive feedback on the creative endeavors of others as well, and you must know which elements to pay attention to. Another reason it's important to keep honing your writing skills alongside your language proficiency.
Language intricacies: variations of English and authenticity
One night, when I had just arrived in New York after a long-haul flight from Amsterdam, a friend of mine called my hotel to ask if I wanted to meet up.
When I told him I didn't because I was knackered, he suddenly went a bit quiet. The next day, I asked him why that was and he told me he thought I'd said: "I am naked."  As an American, he hadn't heard of the word knackered.
My point: if your chosen language is English, know that there are substantial differences between British and American English—not just in spelling but in vocabulary choices too. Pick a lane and be consistent, unless your particular story requires a mixture of the two—for example, with dialogue.
What you should also consider in your exophonic writing is setting, characters, and authenticity. When you write about characters who speak your first language, does the language you choose to write in reflect what people in your mother tongue would actually say? Can a born and bred Italian monk who lives in the Piedmont region sound Cockney? Well, maybe he can, but this is something to at least be aware of.
In a way, exophonic writing can be tied in with themes such as Otherness, Place Writing, and Migrant writing. Make the most of your background and experiences, as your writing could be a contribution to inclusivity and world literature.
Having said that, your background does not have to dictate what you write about. As an exophonic writer, you should be free to explore any theme and topic you like.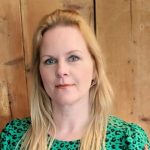 Berendsje Westra is an exophonic writer who lives in the Netherlands. She's the author of Coffee Spills & Songs, a contemporary novel about love, loss, and a mother's betrayal, set in London, Singapore, and New York. She is a writing coach and translator. Check out her blog at and follow her @fictionbw on Twitter and on Instagram.
Featured Photo by Towfiqu barbhuiya on Unsplash