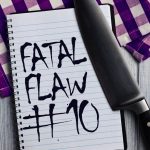 This month our editors are tackling Fatal Flaw #10 – Description Deficiencies. Too many manuscripts are lacking essential description–of characters, setting, time or day and year, how much time has passed from scene to scene. These make for weak scenes and weak novels. Today, editor Rachel Starr Thomson begins our examination of this very fatal flaw of fiction writing:
I love description. Yes, I know, lots of people quit reading in school because the books they were forced to choke down had "too much description." And I like a fast-moving plot as much as the next girl. But even so, there is nothing I like better than to be immersed in another place or time through words.
More than any other element of fiction writing, description creates immersion. But too little description leaves readers either confused or unengaged—or both. And too much irrelevant description bogs down pacing and kills tension. So how's a writer to know just how much is enough? And just what kind of description is best?
This month our editors will be examining this topic from various angles. I want to concentrate, in this post, on visual details and what they can reveal—not just about the physical characteristics of a person, place, or thing but about the story underlying them. Continue Reading…