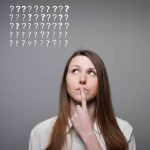 For this week's Throwback Thursday, we're looking at an excerpt from a previous post titled Why, Why, Why?
I do a lot of manuscript critiques. Hundreds a year. I find the best way to get writers thinking about their plot and characters is to ask a lot of questions. And since I'm a novelist who loves deep, rich characters, I like to challenge my editing clients to push past the ordinary and into the realm of the complex.
For, people are complex. Humans are complicated. They really are. Maybe someone will disagree with me and claim the opposite. That people are simple, easy to figure out.
Well, I'm guessing those who really believe that will probably portray boring, flat characters in their fiction.
I'm hoping, though, that you want to create characters that are complex and sometimes unpredictable who have countless facets to their personalities and seeming contradictions. Why? Because real people are like that, and we writers are supposed to be encapsulating real life in our novels. (Unless you're deliberately trying not to for some reason). Continue Reading…