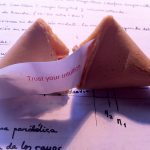 For this week's Throwback Thursday, we're looking at an excerpt from a previous post titled Why Writers Need to Trust Their Intuition.
In my last two posts for Throwback Thursday, I shared a number of quotes from famous authors on writing. These were quotes I came across that I disagreed with. Some I felt were just plain bad advice, and I gave my reasons.
But so as not to sound utterly haughty, I am happy to admit there is a lot of great writing advice out there. Only you can decide what is "truth" for you. My aim at sharing my thoughts like this is to help writers listen more intuitively to suggestions or critiques.
Elizabeth George, in her writing craft book Write Away, writes about listening to our bodies, paying attention to how a scene feels to us. I relate to this intuitive method strongly. Here are some things she says:
"You must develop your instincts for storytelling. I advise my students to trust their bodies when they're writing because their bodies will never lie to them about the story, the pacing, the characters, or anything else. Their minds, on the other hand, will lie to them all the time, telling them something is good when that sinking feeling in their guts . . . tells them irrefutably that that something is bad. Or vice versa. . . . Your body . . . is the most effective tool you have." Continue Reading…