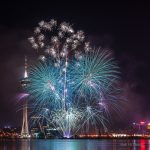 Today's post is reprinted by permission from editor Alan Rinzler. Alan worked for years at the top publishing houses with some of the most successful authors (as you'll see below). I feel his terrific post on book endings ties in wonderfully with our look at scene structure. Be sure to check out Alan's website to glean more from this very insightful and knowledgeable editor!
Writing a great ending for your book is just as important as a dynamite opening that rivets our attention and compels us to keep turning those pages.
A well-written book requires some kind of symphonic climax that resonates in our heads and hearts like the famous 40-second E-major chord at the end of the Beatles' Sgt. Pepper's Lonely Heart Club Band. Our response may be filled with joy, hope, and happiness, or it may lead us to feel uncomfortable, to frown, scratch our heads, and worry about the unknown mysteries of life.
I've worked with many fiction and narrative nonfiction authors to achieve such closure for plot-driven thrillers, mysteries, romances, literary novels, memoirs, and young adult books, but also histories, biographies, travel books, and other stories. Continue Reading…