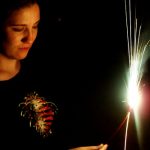 Today's guest post is by Alex Limberg:
Everybody has advice on where you can find ideas for your next book and what to do if you run out of inspiration, but what about the opposite problem? What if you have a pool of too many ideas, but none of them seems ready to go; they just feel very . . . thin?
Well, that's a great problem to have. It means there is something inside you that wants to get onto paper—you just have to create the best possible funnel for it.
How can you make sure an idea gets from your head to your screen in the best way possible? How can you best nurture and support your idea? Continue Reading…