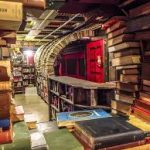 Today's guest post is by Mark Gottlieb, literary agent at Trident Media Group.
Indie bookstores have always been paradises for book lovers, offering a browsing experience unmatched by many other retailers. Just mind your way around the outdoor book carts on the way in; smell the old yellowing pages; listen to the creak of wooden floors; the tallness of shelves that have a tendency to envelop … and you will know that these things cannot easily be recreated elsewhere or online.
Or you might even see near-exact replicas of Fred Armisen's "Candace" and Carrie Brownstein's "Toni" in a Portlandia sketch about two feminist bookstore owners in Portland and have to look twice!
Although, in the face of chain stores and online retailers, it has saddened many readers to know that independent bookstores have been struggling for a long time. We have gone from what might once have been many thousands of independent bookstores in the United States down to 2,321 independent bookstores, as reported by the American Bookseller's Association.
Just the other day, Book Culture—an independent chain of four bookstores in New York City—announced that they would need a $500,000 cash infusion to keep their chain going. So this all begs the question: How could hope for an indie bookstore "renaissance" possibly be on the way? The answers might actually surprise you. Continue Reading…