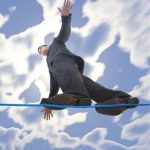 For this week's Throwback Thursday, we're looking at excerpts from past posts on Live Write Thrive. From 16 Tips on How to Survive and Thrive as a Writer, by Brian Feinblum:
Today, people believe they can social network their way to the top, that they are one witty tweet or one viral video away from making millions. They want to be on a reality show, they want to blog their way to fame, they want to create the next Facebook—but they fail to put in the hard work that is needed.
Those involved in book publishing seek to cash in their lottery ticket. Everyone who writes a book has the hope—even the expectation—that they will have a best-seller on their hands. Who is there to give them a tissue box when their Book Scan numbers don't register beyond a blip of sales?
But, reality aside, here's the pep talk all writers will need at some point in their careers. Put aside the need for hard work, luck, connections, great writing, hiring professional help, etc. Continue Reading…