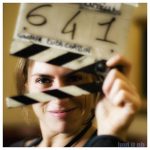 There's a whole lot more to "showing" than you think!
Sol Stein in his book Stein on Writing says, "Twentieth-century readers, transformed by film and TV, are used to seeing stories. The reading experience for a twentieth-century reader is increasingly visual. The story is happening in front of his eyes."
This is even more true in the twenty-first century. As literary agent and author Donald Maass says in Writing 21st Century Fiction: "Make characters do something that readers can visualize."
I mentioned that writers are told to show, not tell, yet they're not shown how.
Here's what I say in Shoot Your Novel:
There are myriad choices a writer has to make in order to "show" and not "tell" a scene. Writers are often told they need to show, which in essence means to create visual scenes the reader can "watch" unfold as they read.
But telling a writer to "show" is vague. Just how do you show? How do you transfer the clearly enacted scene playing in your mind to the page in a way that not only gets the reader to see just what you want her to see but also comes across with the emotional impact you intend?
Writers know that if they say "Jane was terrified," that only tells the reader what Jane is feeling; it doesn't show her terrified. So they go on to construct a scene that shows Jane in action and reacting to the thing that inspires fear in her. And somehow in doing so writers hope they will make their reader afraid too. Continue Reading…