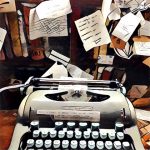 Today's guest post is by author and writing coach Catharine Bramkamp.
As writers we often start our day scrubbing in one kind of a journal or another. But did you know that journaling with intention can create your first steps to better work?
There are as many iterations of journaling as there are writers. Julia Cameron calls her journaling work "morning pages." Natalie Goldberg calls first-thing writing her "ten minute write." You can call it unconscious or spontaneous writing, or you can call it channeling the muse or just bitching on the page to avoid bitching to loved ones.
You can call it anything  you like, but journaling will deliver new ways to capture old thoughts. And the first way to accomplish this is to write without stopping so your subconscious can take over your editor.
In my journaling classes, I ask students to write for ten minutes.  What they discover is a  decided divide between minute five and minute six. At minute six the writing switched from surface observations to deeper ideas and surprising thoughts.   One student started writing about her parents, one started chronicling her recovery process. One asked how many minutes should a person spend on discussing his feelings.
What is so radical or even magical about writing for ten minutes without stopping?