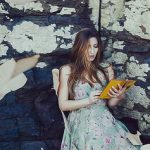 For Throwback Thursday, we're looking at excerpts from past posts on Live Write Thrive. Today's post is from 6 Common Myths About Book Reviews, by Dana Lynn Smith:
Book reviews are a powerful promotional tool, but there are some misconceptions about how to obtain them. Here are some common myths about getting book reviews.
 Myth #1 – Book reviews are just for new books.
It's true that book review journals read by librarians and booksellers review books at or soon after publication. It's best to focus your review efforts during the first year of a book's life, but some venues will review older books.
 Myth #2 – No one will review a self-published book.