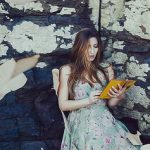 For Throwback Thursday, we're looking at excerpts from past posts on Live Write Thrive. Today's post is from 6 Common Myths About Book Reviews, by Dana Lynn Smith:
Book reviews are a powerful promotional tool, but there are some misconceptions about how to obtain them. Here are some common myths about getting book reviews.
 Myth #1 – Book reviews are just for new books.
It's true that book review journals read by librarians and booksellers review books at or soon after publication. It's best to focus your review efforts during the first year of a book's life, but some venues will review older books.
 Myth #2 – No one will review a self-published book.
It is more challenging for self-published authors and small presses to get reviews in certain venues, but it's certainly not impossible. Self-published books are far more likely to be reviewed if they are produced to industry standards (well written, edited and designed). A number of book review websites welcome self-published books or even focus specifically on them, and there are several book journals like Midwest Book Review that are friendly to independent and small presses.
 Myth #3 – Book reviews are just for books being sold to bookstores and libraries.
Trade journals like Publishers Weekly and Library Journal are designed to meet the needs of booksellers and librarians, so they focus on books that are available through major distributors and wholesalers at standard discounts. But there are plenty of other places to get book reviews, including book blogs, topical blogs, online bookstores, specialty publications, literary magazines, and reader networks.
 Myth #4 – You can't get reviews for ebooks.
It takes some extra research to identify revenue venues that will review books that are available only in ebook format. Many reviewers accept only printed books, although that is slowly changing as the use of ebook readers becomes more widespread. There are several websites, such as Kindle Obsessed, that focus on ebooks.
 Myth #5 – No one pays attention to the reviews in online bookstores.
It's true that some shoppers view online reviews with skepticism, but I do believe that reviews (or lack of them) influence shoppers in online bookstores. In my book, How to Get Your Book Reviewed, I cite a research study by the Yale School of Management that backs this up. With so many books to choose from, shoppers are often looking for some factor to help them decide between several books.
Having very few or no reviews on an Amazon sales page can give the impression that the book isn't very popular. Reviews can also give the shopper more insight into the book, beyond the product description.
Be sure to encourage customers and book reviewers to post their review or recommendation on Amazon.
 Myth #6 – It's not worth the effort of pursing reviews.
Book reviews serve two basic purposes: they bring your book to the attention of people who might not have learned about it otherwise, and they help potential customers decide if your book is a good fit for them. The more reviews you have, and the more places those reviews appear, the greater your reach and your selling power.
All book marketing plans should include a strategy for maximizing the value of reviews, endorsements, and testimonials.
---
Want to know the 8 essential secrets to selling big on Amazon?
Take my FREE email course! Yes, it's free! And you will learn a ton of tips that will help your book get discovered.
Why an email course? Because it's a whole lot of fun and instruction packed into small bursts coming to your inbox—tips you can apply right away!
All you have to do is CLICK HERE and then type in your email address. You'll get 8 lessons over a couple of weeks. I've packed this course full of insights and strategies that have helped me (and many other authors!) to hit the tops of the search results list.
These strategies work for both fiction and nonfiction.
You have nothing to lose!
I can highly recommend 8 Essential Steps to Selling Big on Amazon by C.S. Lakin for every author selling Kindle books. She explains each step in an easy to understand manner, much as if she was sitting right there with you at your desk. Following her directions, I was able to change the keywords for my book so that every one of them brought it to the first page of results. I expect this to have amazing results when it comes to future sales. I've never received such valuable information from a free course. Thank you!

—Karen Saari
Feature Photo Credit: Adi Korndörfer via Compfight cc