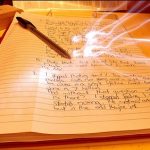 Today's guest post is by Alice Calch:
You're stuck. Maybe you've been stuck for a few month; maybe you've been stuck for a years. You've been writing that best-selling novel all this time, but it's really only a hobby now. Life happened, and you had to make a living.
So you took a job to keep your stomach from growling and your dog from growling at you. You gave in and "settled." Oh, the novel comes out every once in a while and you gaze at it; you write another half chapter, and life calls again. You have "settled."
Here's the problem. You've never really thought of yourself as a writer. You haven't called yourself a writer. You're just a person with an "okay" job who writes as an occasional hobby. You haven't considered all the possibilities that the pen actually offers.
If you really want to be able to call yourself a writer, then make the paradigm shift right now. And here are nine ways to do it! Continue Reading…