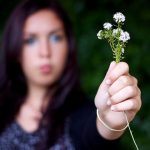 We're continuing looking at healthy lifestyle for writers this month, so we can all start the New Year with vigor and focus. Today's guest post is from author Harriet Hodgson:
Writing is hard work. Unfortunately, you may get so involved in a project that you keep at it longer than you should. Before you know it, hours have passed. Continuous keyboarding can lead to Repetitive Stress Injury (RSI), including tired eyes, headache, back pain, neck pain, sore hands, aching fingers, and even Deep Vein Thrombosis.
Staying healthy and in shape is a challenge for today's writer—who is often parked behind a computer screen day after day. But these self-care tips will help keep writers healthy and productive.
Monitor snacks. When I was young and thin, I told myself that broken cookies didn't contain any calories. I was delusional. Snack foods can be high-calorie and "empty calorie" foods with no nutritional value. It's wise to keep healthy snacks on hand, things like baby carrots, grapes, and apples. Continue Reading…