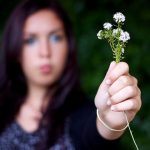 We're continuing looking at healthy lifestyle for writers this month, so we can all start the New Year with vigor and focus. Today's guest post is from author Harriet Hodgson:
Writing is hard work. Unfortunately, you may get so involved in a project that you keep at it longer than you should. Before you know it, hours have passed. Continuous keyboarding can lead to Repetitive Stress Injury (RSI), including tired eyes, headache, back pain, neck pain, sore hands, aching fingers, and even Deep Vein Thrombosis.
Staying healthy and in shape is a challenge for today's writer—who is often parked behind a computer screen day after day. But these self-care tips will help keep writers healthy and productive.
Monitor snacks. When I was young and thin, I told myself that broken cookies didn't contain any calories. I was delusional. Snack foods can be high-calorie and "empty calorie" foods with no nutritional value. It's wise to keep healthy snacks on hand, things like baby carrots, grapes, and apples.
Get a check-up. I have a heart murmur, so I try to get a check-up each year. I also pay attention to my Body Mass Index (BMI), a calculation based on height and weight. According to the Centers for Disease Control, we should strive for a BMI between 18.5 and 24.9. Your physician will be able to tell you more about the BMI for men and for women.
Schedule breaks. To prevent Repetitive Stress Injury, stretch your arms or stand up and move around for two minutes. "Desk Exercises—Office Exercises, Maintain Ergonomic Well-Being," an article on the Ergo in Demand website, recommends thirty- to sixty-second micro-breaks every thirty minutes. Rest your eyes by looking away from the monitor and focusing on a distant object. Do this for thirty seconds every half hour.
Have a sleep routine. I get up at the same time every morning and try to go to bed at the same time each night. An hour before bedtime I start turning out lights. Following the recommendation of the Mayo Clinic, there is no television in the bedroom. Surprisingly, the Mayo Clinic also says you should put clocks out of sight. In its website article "Insomnia," Mayo says clock-watching causes stress and makes it harder to get back to sleep.
Watch the caffeine. You may be one of those writers who "runs" on coffee and refills your cup constantly. But too much coffee can cause a spike in blood pressure. Consider drinking half-caf as I do or decaffeinated coffee. Some nutrition experts recommend no caffeinated beverages after noon.
Use your body clock. I'm an early-morning person, and it's not unusual for me to get up at four thirty a.m. and crank out copy. You may be an early-morning person, afternoon person, or late-night person. Whichever you are, take advantage of this time, and schedule important work then. Save less important tasks for when your body clock is slower.
Be self-compassionate. Writing has its ups and downs. The downs—another reject letter, extensive revisions, a tight deadline—can be discouraging. Instead of beating yourself up, be kind to yourself. Take a day off. Go to a movie. Have lunch with a friend. E-mail someone who writes in the same genre and share some encouraging thoughts.
Focus on positives. This idea is from composer and singer Paul Alexander. In a December 6, 2014 Facebook post, Alexander suggests keeping notes about good things. His idea was to aid grief recovery, but it may be applied to writing. When something good happens to you, note it on a small piece of paper, then put the paper in a jar. At the end of the year, empty the jar and "see what awesome stuff happened," Alexander advises. I just started my good things jar and love it. The first notes: Blurb about my Jan. workshop in senior center newsletter. Article in national magazine.
Read. The writers I know love to read. Reading expands vocabulary, leads to new ideas, and makes us aware of the world. My family didn't get a TV until I was a senior in high school. Instead of watching the boob tube, my brother and I took out dozens of books from the library. I think my love of reading comes from this time. Reading can relax you and give you a break from writing.
These are just a few self-care tips. You may have other tips that work for you. Self-care keeps your creative juices flowing. Put self-care on your writing schedule today!
Harriet Hodgson has been a freelancer for thirty-six-plus years and is the author of thirty-three books. She has appeared on more than 170 talk shows and dozens of television stations, including CNN. A popular speaker, she has given presentations at public health, Alzheimer's and bereavement conferences. Her latest release is Happy Again! Your New and Meaningful Life after Loss. For more information about this busy author and grandmother, visit www.harriethodgson.com
Feature Photo Credit: Carnie Lewis via Compfight cc