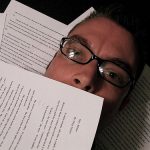 Today's guest post is by Jen Scott, associate editor at Firewords Quarterly:
One of the most rewarding parts of my job is that it affords me the opportunity to discover tremendous writers. On a personal level, showcasing their imagination and skill provides endless satisfaction. Some have been writing for years while, for others, I am the first editor to accept their work. Age is of no consequence: often a person's first publishing success comes later in life, yet I have also eagerly published those who are still at high school. Moreover, some writers provide a long list of previous credits in esteemed magazines but are ultimately rejected, while others include a short, unassuming line of introduction and totally blow me away.
While there is no hard-and-fast formula for making a successful submission, time and time again I see writers with great potential falling into the same traps which lead to rejection. Here is some advice on how to avoid these common pitfalls.