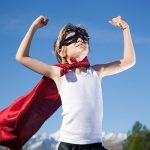 Today's guest post is by author and blogger Jennifer Blanchard:
As a fiction writer, you likely compare yourself to the novelists that you love. People like Stephen King and Jackie Collins and J. K. Rowling are your favorite writers, and they make you feel like you'll never measure up. And maybe this has kept you from writing (or finishing) your story.
But no more.
Because here's the thing. Even the pros have bad days. Even the pros have moments where they lose their confidence and feel like they have no clue what they're doing.
Take for example, my dog, Weiland. He's a pro at climbing the stairs in our apartment building. He's been doing it since the day we moved in almost two years ago. But the other night, we were coming in from a car ride and he wouldn't climb the stairs. He just sat there at the bottom of the steps, wearing his plaid jacket, cowering and making crying noises. At first my husband and I laughed and tried to coax the dog up the stairs. But he wouldn't budge. My husband ended up going downstairs and carrying him up. But then later that night, I took Weiland out to potty. He went down the stairs and he climbed back up them with no problem.
So what happened? Why did he for one moment freak out and think he couldn't climb the stairs? Continue Reading…