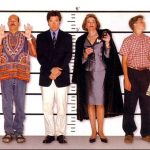 Today's guest post is by author Jennifer Probst.
Secondary characters have always been important to readers in fiction and serve an important purpose for the writer.
I've always been a fan of the sassy best friend; the sarcastic sidekick to the hero creating a perfect bromance; the wise, funny matriarch bestowing valued advice. These characters add depth and dimension to story, hook readers, and lead them to do the most important task of all: buy your next book.
Introducing a secondary character who has no purpose and fails to win readers' hearts is a missed opportunity to grow your readership. But how do you create these vibrant characters without watching them become flimsy paper dolls with no real personality or pop?
I've sketched out some important steps to make sure your secondary characters are rich, diverse, and have readers coming back for more. Continue Reading…