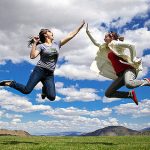 Something remarkable happens today. And it has the potential to be a turning point in your writing career.
My friend and colleague, New York Times best-selling author Jerry Jenkins (the guy who wrote the Left Behind series), has just opened spots in his most comprehensive novel-writing program in more than forty years of teaching writers.
It's called Your Novel Blueprint. You can find all the information right here.
But here's a quick overview of what you get when you sign up:
Lifetime access to 84 video lessons that take you step-by-step through Jerry's entire novel-writing process. He'll guide you from start to finish, all the way to a completed manuscript.
Instructions for every writing session, so you'll never stare at a blank screen wondering what to do next. You'll love the confidence that comes from a clear purpose and direction each time you sit down to write.
A PERSONAL VIDEO from Jerry, evaluating your novel idea, in which he'll tell you what he thinks works, what could improve, and how to make it as compelling as possible for agents or acquisition editors. His goal is to give you confidence in the foundation of your novel before you spend months building on it.
A FREE Professional Critique of your novel's first 10 pages from a celebrated, award-winning novelist or editor from Jerry's stable of handpicked experts.
Exclusive access to the private Your Novel Blueprint Facebook page (currently 475 members strong), where you can get to know fellow members and interact about your works in progress. This has become a most popular feature and many have formed mutual accountability groups. You can also post pieces of your work for informal evaluation and ask Jerry questions about any aspect of your novel. He says this community impresses him every day!
An invitation to a live, in-person Mastermind Session Jerry hosts annually after you and fellow members finish your novels—a full day of group coaching and in-depth conversation about your writing…and a chance to celebrate all you've accomplished! Jerry says many have established lifelong friendships here.
Access to Jerry's Query Letter and Proposal Package, everything you need to confidently pitch your manuscript to agents and publishers. It includes his guide, How to Impress Agents and Editors (what decision makers look for and how to make your work stand out), access to 2 novel proposals that resulted in best sellers (you can use these as templates for your own proposals), and his 90-minute seminar, How to Write Winning Queries and Proposals.