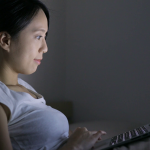 Today's post is by Lesley Vos.
More often than not, we writers don't craft novels from offices. No teammates, no corporate culture, no "all that stuff" from HR managers on training and engagement for better productivity and work efficiency.
And yet, who says we don't need this? Procrastination and writer's blocks run their course, and here we are, crying over a blank page in attempts to start the next chapter.
Productivity is a holy grail for writers. When I started my journey as a freelance writer in the hope of finishing a book in a year, I didn't realize the size of a problem. I considered it natural to write in a bed with a laptop on my knees and a cup of coffee nearby. And when, in a month, I found I'd written only 5,000 words of my future book, it had become a warning sign saying I did something wrong.
Scientists have long since proven the influence of environment on productivity. Why do you think J. K. Rowling wrote her masterpiece in cafes? The atmosphere of coffee shops makes us writers more creative, inventive, concentrated, and—surprise, surprise!—therefore productive. Continue Reading…